BL1625i B1625M 16 mm inner rotor BLDC motor with built in driver.
| | | |
| --- | --- | --- |
| BL1625I | Output Power: 0.1W~4.0W | Weight: 23g (Approx.) |
Model: BL1625i, Size: diameter Ø 16.0 mm * 25.0 mm
Key features: Built-in driver(built-in driver controller with hall sensor), PWM pulse wide speed range, Clockwise/counter-clockwise rotation, FG speed feedback signal, Low EMC, Low noise, Long life: 2000~20000hrs, Over-current protection, Over-voltage protection, Under-voltage protection.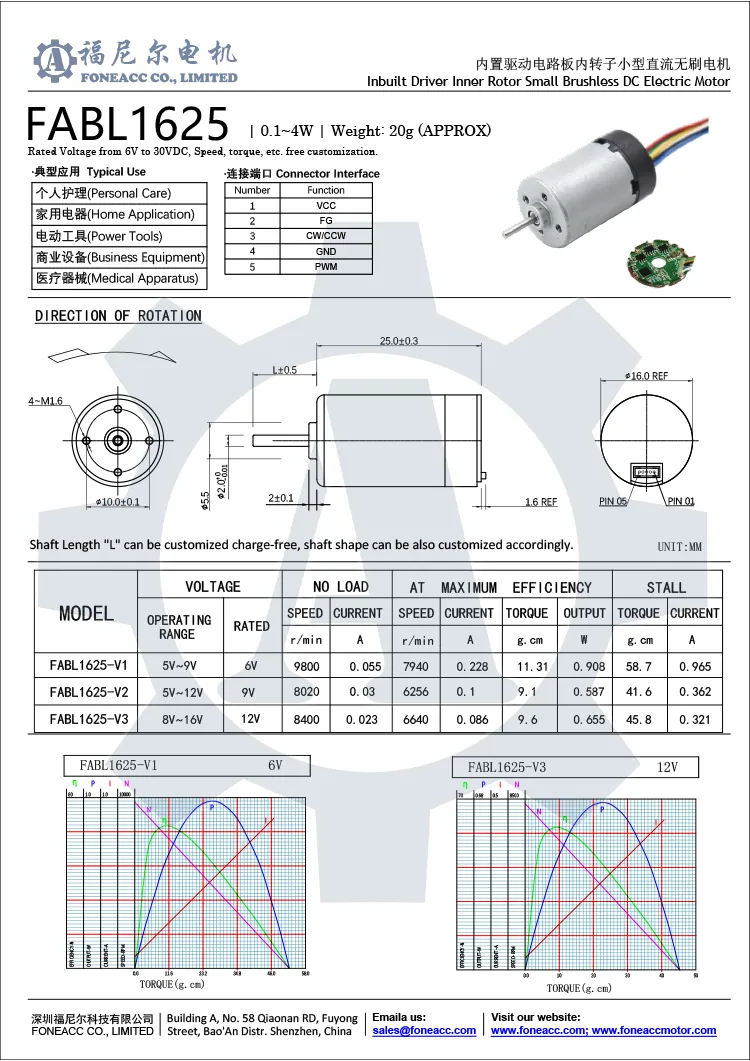 Characteristics: CW & CCW, Signal function available, Locked rotor protection, Stepless speed regulation, Low noise, Low EMI, Long life 2000-20000hrs
Notice: Data in this typical specification sheet are for other certain customers. Voltage, rated torque, speed, current, power, and shaft extension feature & dimension can be changed to meet the customer-specific requirements.
Other specifications made for some other customers are listed for your reference as below:
Model

Voltage(V)

No Load

Rated Load

Stall

Operating Range

Rated

Speed (rpm)

Current (A)

Torque (mNm)

Speed (rpm)

Current (A)

Output P. (W)

Torque (mNm)

Current (A)

BL1625I-S01

2-5

3.7

7500

0.145

0.687

5569

0.297

0.40

2.44

0.35

BL1625I-S02

5-13

6

7800

0.050

0.687

6500

0.150

0.46

4.17

0.9

BL1625I-S03

5-13

12

7850

0.034

0.687

6570

0.080

0.475

4.26

0.8

BL1625I-S04

5-13

12

49265

0.314

0.687

47462

0.538

3.413

18.76

0.8

BL1625I-S05

5-13

6

9995

0.082

1.001

8045

0.261

0.843

5.087

0.9

BL1625I-S06

5-13

12

26600

0.118

1.501

22565

0.415

3.547

9.895

0.8
Related Products:
BL1625I, BL1625, B1625M, BL2418I, BL2418, B2418M, BL2430I, BL2430, B2430M, BL2838I, BL2838, B2838M, BL2847I, BL2847, B2847M, BL3626I, BL3626, B3626M, BL3630I, BL3630, B3630M, BL3640I, BL3640, B3640M, BL3650I, BL3650, B3650M, BL3657I, BL3657, B3657M, BL4235I, BL4235, B4235M, BL4260I, BL4260, B4260M, BL4275I, BL4275, B4275M, BL5265I, BL5265, B5265M, BL5285I, BL5285, B5285M