BL4260i B4260M OD Diameter 42mm Small inner rotor Brushless DC BLDC motor
Specs:
Size: Ø42.0* 60.0mm
Built-in driver(built-in driver controller with hall sensor)
PWM pulse wide speed range
Clockwise/counter-clockwise rotation
FG speed feedback signal
Low EMC
Low noise
Long life: 20000hrs Min.
Over-current protection
Over-voltage protection
Under-voltage protection
OEM and ODM orders are welcome
The design can be customized
Download and view HD PDF file bl4260.pdf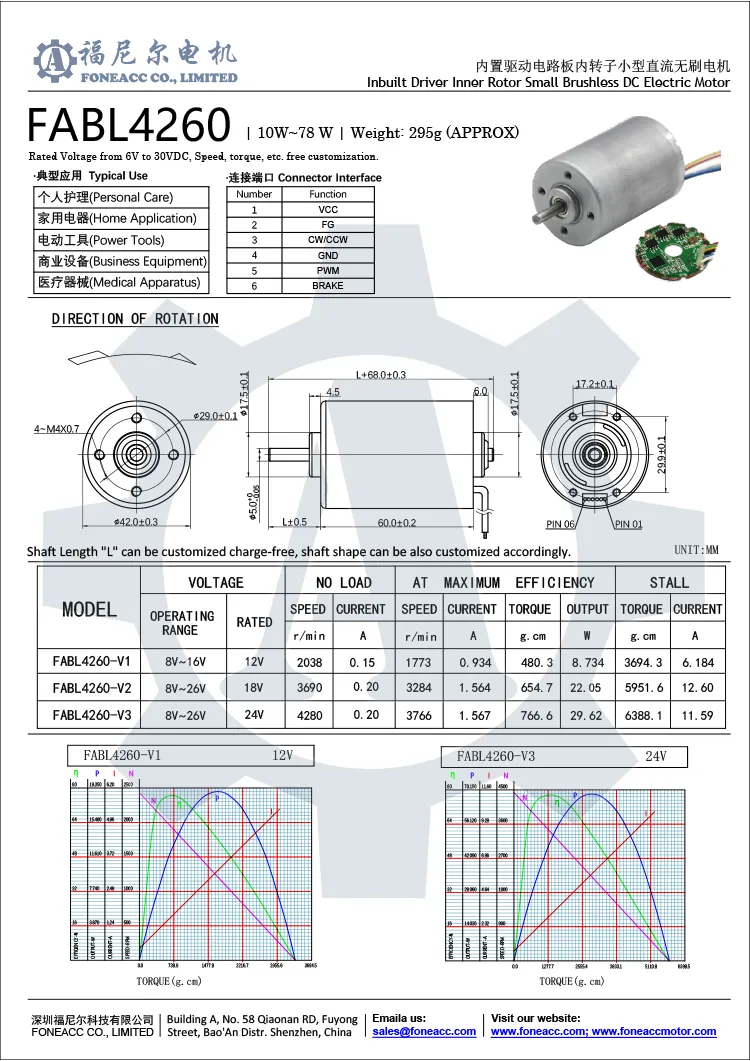 42mm bldc motor with inbuilt controller series.
BL4260

Output Power: 5W~60W
Weight: 296g (Approx.)

brushless dc motor-Typical Application

Home Application: White Goods, Small Appliance, Fanner, Coffee Machine, Milk Tea Machine

Medical Apparatus: Medical Pump, Surgery Tools, Medical Stirrer, centrifugal Machine

Industry Equipment: Pump, Portable Screwdriver, Small Compressor

Business Equipment: Printer, Copier, Projector, ATM, Vending Machine

Personal Care: Hair Dryer, Electric Shaver, Massager
Model
Voltage(V)
No Load
Rated Load
Stall
Operating Range
Rated
Speed (rpm)
Current (A)
Torque (g.cm)
Speed (rpm)
Current (A)
Output P. (W)
Torque (g.cm)
Current (A)
BL4260-S01
8~26
12
2050
0.16
480.5
1775
0.942
8.759
3695.2
6.18
BL4260-S02
8~26
24
4260
0.26
969.9922
3270
1.85
32.58
4175.477
3
BL4260-S03
8~26
24
4046
0.24
612.6482
3342
1.21
21.01
3516.298
2.5
Characteristic: CW & CCW, Signal function available, Locked rotor protection, Stepless speed regulation, Low noise, Low EMI, Long life 3000-50000hrs
Notice: Data in this typical specification sheet are for other certain customers. Voltage, rated torque, speed, current, power and shaft extension feature & dimension can be changed to meet customer specific requirement.
BL4260 Data
Related Products:
BL1625I, BL1625, B1625M, BL2418I, BL2418, B2418M, BL2430I, BL2430, B2430M, BL2838I, BL2838, B2838M, BL2847I, BL2847, B2847M, BL3626I, BL3626, B3626M, BL3630I, BL3630, B3630M, BL3640I, BL3640, B3640M, BL3650I, BL3650, B3650M, BL3657I, BL3657, B3657M, BL4235I, BL4235, B4235M, BL4260I, BL4260, B4260M, BL4275I, BL4275, B4275M, BL5265I, BL5265, B5265M, BL5285I, BL5285, B5285M